Robert Dello-Russo
Director, Office of Contract Archaeology
Maxwell Museum of Anthropology
PhD, University of New Mexico (1999)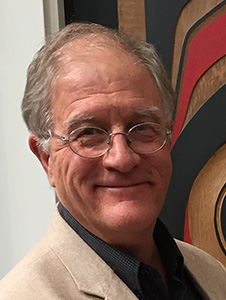 Email: 

Phone: 

505-277-2870
 
Research:
Paleo-climate and Paleoenvironmental studies;
Paleoindian use of landscape resources;
Dynamics of geomorphological processes;
XRF studies of silicified rhyolites from prehistoric lithic quarries;
Chrono-stratigraphy of rockshelters;
Hunter-gatherer mobility and settlement at regional scales.
Recent Publications:
2019 Holliday, Vance, Robert Dello-Russo and Susan Mentzer  Geoarchaeology of the Water Canyon Paleoindian Site, West-Central New Mexico. Geoarchaeology, an International Journal.
2019 Dello-Russo, Robert D., Robin Cordero and Banks Leonard. Chapter 6: Analytical and Interpretive Challenges Posed by Late Paleoindian Activity Areas at the Water Canyon Site, West-Central New Mexico. In, Open Air Camps of the Terminal Pleistocene and Early Holocene: Intra-Camp Spatial Organization, Activity Areas, and Technology, Editors: Kristen Carlson and Leland Bement, University of Colorado Press, Boulder.
2016  Dello-Russo, Robert D.; Smith, Susan J.; Walker, Patrice A. The Black Mat at the Water Canyon Paleoindian Site near Socorro, New Mexico: A Paleoenvironmental Proxy Data Archive for the Pleistocene-Holocene Transition, in: The Geology of the Belen Area, Frey, Bonnie A.; Karlstrom, Karl E.; Lucas, Spencer G.; Williams, Shannon; Zeigler, Kate; McLemore, Virginia; Ulmer-Scholle, Dana S., New Mexico Geological Society, Guidebook, 67th Field Conference, pp. 491-500.
2013  Dello-Russo, Robert D. The Water Canyon Paleoindian Site – Preliminary Evidence of Site Formation Processes, Site Structure and Late Paleoindian Lifeways. In From the Pueblos to the Southern Plains: Papers in Honor of Regge Wiseman, edited by Emily J. Brown, Karen Armstrong, David M. Brugge and Carol J. Condie. Archaeological Society of New Mexico Volume No. 39, pp. 51-63.
2013  Lentz, Stephen C., Robert Dello-Russo, Pamela McBride, Donald Tatum, Linda S. Cummings, and Chad Yost. Evidence for Early Domesticates at LA 159879: An Early Agricultural Site in the Mimbres Bolson near Deming, Luna County, New Mexico. Edited volume for the 17th Mogollon Conference, University of Western New Mexico, Silver City.