Catherine Rhodes
Visiting Lecturer III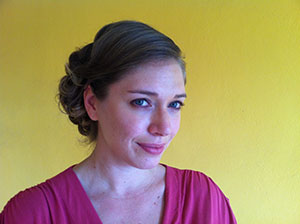 Ethnology
At UNM since 

2017

Email: 

 
Recent Courses:
Language and Culture (ANTH 310, cross-listed with CJ 319 and LING 359)
Principles of Cultural Anthropology (ANTH 330)
Topics in Ethnology: Anthropology of Education (ANTH 340/540)
Topics in Ethnology: Politics of Language in Latin America (ANTH 340/530)
Proseminar in Linguistic Anthropology (ANTH 510)
Proposal Writing (ANTH 530)
Anthropology Research Individual Study (ANTH 597)
Education:
University of North Carolina at Chapel Hill, Latin American Studies, BA 2001
University of Chicago, Social Sciences (specialization linguistic anthropology), MA 2009
University of Pennsylvania, Anthropology and Education, PhD 2016
Dissertation: "Making Maya Linguistics, Making Maya Linguists: The Production of Maya Scientific Expertise and Models of Personhood in the Yucatan Today"
Research:
Linguistic anthropology, semiotics, language diversity and cognition, bi- and multilingualism, language ideologies, social identification, discursive self-making, narrative, discourse analysis, scale, epistemology, ontology, the production of expertise, ethnicity, Indigeneity, modernity, social studies of science. Research regions: Yucatan, Mexico; Central Mexico; U.S. Mexican diaspora
Recent Publications:
Rhodes, C., Pomol Cahum, I. and Chan Dzul, M.O. (in press, 2018). Escribiendo diccionarios: Un estudio lexicográfico de materiales de referencia en maya ('Writing dictionaries: A lexicographicstudy of reference materials in Maya'). Centro Peninsular en Humanidades y Ciencias Sociales (CEPHCIS). Universidad Nacional Autónoma de México.
Wortham, S. Clonan-Roy, K., and Rhodes, C. (2016). Moral Panic about Sexual Promiscuity: Heterogeneous Scales in the Identification of One Middle-School Latina Girl. Linguistics and Education, 34, 11-21. Special Issue. (P. DeCosta & S. Canagarajah, Eds.)
Wortham, S. and Rhodes, C. (2015). Narratives Across Speech Events. In A. De Fina & A. Georgakopoulou (Eds.), Handbook of Narrative Analysis, p. 160-177. Wiley-Blackwell.
Wortham, S. and Rhodes, C. (2015). Heterogeneity in the New Latino Diaspora. In E. Hamann, S. Wortham, & E. Murillo, Jr. (Eds.), Revisiting Education in the New Latino Diaspora, Ch. 9. Charlotte, NC: Information Age Publishing.
Wortham, S. and Rhodes, C. (2013). Life as a Chord: Heterogeneous Resources in the Social Identification of One Migrant Girl. Applied Linguistics 34/5, 536-553, Special Issue. (A. De Fina & S. Perrino, Eds.)
Wortham, S. and Rhodes, C. (2012). The production of relevant scales: Social identification of migrants during rapid demographic change in one American town. Applied Linguistics Review, 3–1, 75–99.