Loa P Traxler
Associate Professor
Director, Museum Studies Program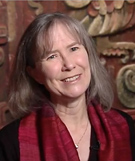 Archaeology
At UNM since 

2013

Email: 

 
Recent Courses:
Maya Prehistory and Archaeology (ANTH 376/570)
Museum Collection Management (MSST 476/576)
Education:
University of Pennsylvania, Anthropology, PhD 2004.
Dissertation: "Evolution and Social Meaning of Patio and Courtyard Group Architecture of the Early Classic Acropolis, Copan, Honduras"
Research:
the Americas, architecture and the built environment. Mesoamerica, Maya civilization. Museum studies, archaeological collections, cultural heritage and public museums.
Recent Publications:
L Traxler, 2012. Time Beyond Kings. Expedition 54(1):36-43.

L Traxler, 2012. 2012 and Beyond. Expedition 54(1):44-45.

TD Price, JH Burton, RJ Sharer, L Traxler, JE Buikstra, LE Wright, and KA Miller, 2010. Kings and commoners at Copan: Isotopic evidence for origins and movement in the Classic Maya period. Journal of Anthropological Archaeology 29(1):15-32.

RA Goodall, J Hall, RJ Sharer, L Traxler, L Rintoul, and PM Fredericks, 2008. Micro-Attenuated Total Reflection Spectral Imaging in Archaeology: Application to Maya Paint and Plaster Wall Decorations. Journal of Applied Spectroscopy 62(1):10-16.

RJ Sharer with L Traxler, 2006. The Ancient Maya, Sixth Edition. Stanford University Press: Stanford, CA.

RJ Sharer and L Traxler, 2006. The Foundations of Ethnic Diversity in the Southeastern Maya Area. In F. Sachse ed., Maya Ethnicity: The Construction of Ethnic Identity from the Preclassic to Modern Times. Acta Mesoamerica. Saurwein Verlag, Markt Schwaben.

L Traxler, 2004. Redesigning Copan: Architecture of the Polity Center at the Time of the Dynastic Founding. In E bell, M Canuto, and R. Sharer eds., Understanding Early Classic Copan. University of Pennsylvania Museum Press: Philadelphia, PA.

L Traxler, 2003. At Court in Copan: Palace Groups of the Early Classic. In J Christie ed., Maya Palaces and Elite Residences. University of Texas Press: Austin, TX.

L Traxler, 2001. The Royal Court of Early Classic Copan. In T Inomata and S Houston eds., Royal Courts of the Ancient Maya Volume 2: Data and Case Studies. Westview Press: Boulder, CO.