Wirt Wills
Professor
Director, Chaco Canyon Archaeological Research Lab; Interim Curator of Archaeology, Maxwell Museum of Anthropology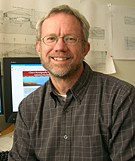 Archaeology
At UNM since 

1986

Email: 

Phone: 

505-277-5005
 
Recent Courses:
Introduction to Archaeological Method and Theory (ANTH 120)
World Prehistory (ANTH 220)
Southwest Archaeology (ANTH 321)
Field School (ANTH 375)
Seminar in Chaco Archaeology (ANTH 420/520)
Field Methods in Archaeology (ANTH 475/573L)
Current Debates in Archaeology (ANTH 579)
Education:
University of Michigan, Anthropology, MA 1980, PhD 1985
Dissertation: "Early Agriculture in the Mogollon Highlands of New Mexico"
Research:
Foraging and early farming societies, economic organization, religion and emergent social complexity, 19th-century Spanish colonial archaeology; US Southwest.
Recent Publications:
WH Wills, 2005. Economic Competition and Agricultural Involution in the Precontact North American Southwest. In V Scarborough, ed., A Catalyst for Idea: Anthropological Archaeology and the Legacy of Douglas W. Schwartz. School of American Research Press: Santa Fe, NM. pp. 41-68.

GR Milner and WH Wills, 2005. Chapter 18: Complex Societies of North America. In C Scarre, ed., The Human Past: World Prehistory and the Development of Human Societies. Thames and Hudson: New York City, NY. pp. 678-715.

P Crown and WH Wills, 2003. Modifying Pottery and Kivas at Chaco: Pentimento, Restoration, or Renewal? American Antiquity 68: 511-32.

WH Wills, 2001. Ritual and Mound Formation during the Bonito Phase in Chaco Canyon. American Antiquity 66: 433-52.

WH Wills, 2001. Pithouse Architecture and the Economics of Household Formation in the Prehistoric Southwest. Human Ecology 29: 477-500.

WH Wills, 2000. Political Leadership and the Construction of Chacoan Great Houses, A.D. 1020-1140. In B. J. Mills, ed., Alternative Leadership Strategies in the Prehistoric Southwest. University of Arizona Press: Tucson, AZ. pp. 19-44.