UNM Southwestern Field School 2015: Water Canyon Paleoindian Site in West-Central New Mexico
Course Dates: Jun 01, 2015 - Jul 10, 2015
Instructor/s: Dr. Robert Dello Russo
CRN:
Course Credits: 6 Credits
Field School Costs: $1434 Course Fee, includes cost of housing and transportation to and from the site from housing at Sevilleta NWR
UNM Tuition and Fees (Subject to Change): Standard Tuition and Fees for 6 credit hours (see Registrar's Website for Tuition and Fee Information)
Registration Fee: None; Application required prior to registration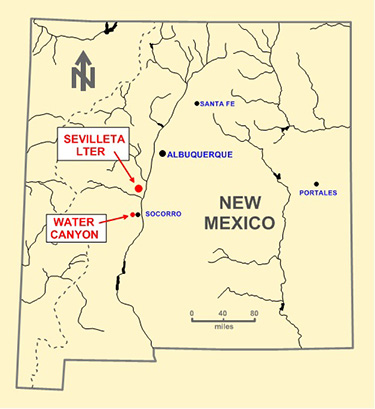 ABOUT THE WATER CANYON SITE:
The Water Canyon site is a multi-component Paleoindian locale associated directly with an extensive buried, fossil wet meadow deposit, known as a "Black Mat". The site currently consists of at least three cultural components, including a Late Paleoindian component (ca. 9300 cal yr BP) with an intact Bison antiquus bone bed and possible camp site in Locus 1; a Scottsbluff/Eden (Cody Complex) component (ca. 11,100 cal yr BP) with an intact Bison antiquus bone bed in Locus 5), a possible Cody Complex campsite in Locus 4 and a possible Clovis (est. 13,000 cal yr BP) campsite in Locus 3. Recent radiocarbon and OSL dating at the site indicates the presence of Folsom-, Clovis-, and Pre-Clovis-age sediments in at least 2 loci. The Black Mat represents an incredible archive of paleo-environmental and paleo-climatic proxy data.
RESEARCH GOALS FOR 2015:
We have five major research and/or methodological goals for the upcoming field season, including: 1) the continued investigation of the Locus 1 Late Paleoindian component; 2) the investigation of the Cody Complex manifestations in Loci 4 and 5; 3) the investigation of the possible Clovis camp location on the abandoned terrace of Locus 3; 4) the continued collection of paleoenvironmental proxy data (e.g. pollen & phytolith samples); and 5) additional mechanical coring between Loci 1 and 4.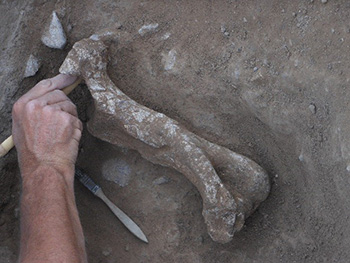 WHAT WILL STUDENTS LEARN?:
Students will be grouped into 3 crews of 4 students each, with one Teaching Assistant monitoring each crew. Each crew will be working at a separate Locus of the site. On the first day, an orientation session will be held at an LTER classroom to acquaint students with the site, the nature of the research goals, the expectations of the instructors, and the safety protocols. A second orientation will occur afterwards at the site itself. Over the course of the Field School, students will be instructed in field survey techniques; grid layout and excavation techniques; sampling protocols for pollen, radiocarbon, bulk sediment, and OSL samples; record keeping; photography; and provenience designation. Lithic and faunal identification and analytical guidelines will be taught, together with faunal recovery techniques. Survey mapping and data collection using total stations will be introduced. Post-field sample processing, record keeping and data entry will be taught, as well. There are planned evening lectures to be provided by interdisciplinary scientists.
WE MUST RECEIVE YOUR APPLICATION
NO LATER THAN APRIL 15, 2015
For more information contact:
Carla Sarracino, ajls@unm.edu or
Robert Dello-Russo,rdellorusso@unm.edu