48th JAR Distinguished Lecture: Dr. Robert Hitchcock Presents The Plight of the Kalahari San: Hunter-Gatherers in a Globalized World
-Event-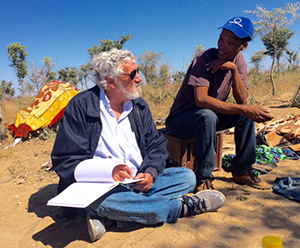 Start Date: Feb 28, 2019 - 07:30pm
Location: Anthropology Lecture Hall 163
On Thursday, February 28, 2019 at 7:30 pm in Anthropology Lecture Hall 163, Dr. Robert Hitchcock will present the 48th Journal of Anthropological Research (JAR) Distinguished Lecture, the third in a sub-series honoring UNM Anthropology PhD Alumni on the Department's 90th Anniversary.  His talk will focus on The Plight of the Kalahari San: Hunter-Gatherers in a Globalized World, featuring his research funded by the University of New Mexico & Kalahari Peoples Fund (KPF).   He will present an informal seminar entitled Fieldwork among San Hunter-Gatherers & their Neighbors: Anthropology, Human Rights & Ethicsthe following day at noon in Anthropology Conference Room 248.
Abstract
The 130,00 San of the Kalahari Desert region of southern Africa have diversified livelihoods that are undergoing significant change. This presentation explores the complexities of the challenges that San and their neighbours face, ranging from dispossession and marginalization to climate change and the impacts of globalization.  Some San have experienced involuntary resettlement from their ancestral areas and the criminalization of some of their livelihood strategies, notably hunting and gathering.  The San, for their part, have achieved significant success in organizing both locally and internationally to regain their land and resource rights.
Working alongside anthropologists, lawyers, and development workers, Kalahari San have taken governments in three southern African countries (Botswana, South Africa, and Namibia) to court. They have obtained the right to return to some of their lands and they have been able to require non-San people who have entered their areas without permission to leave. The San have also acquired rights to both biological and intellectual property, including high-value plants that have considerable medical and nutritional value.  Drawing on data from a dozen San groups in the southern African region, this presentation examines the advocacy work by San and their supporters to gain recognition and support of their rights.  It also assesses the efforts by San organizations to establish a Code of Research Ethics, which incorporates the right to Free, Prior and Informed Consent (FPIC), the right to have a voice in determining who can work among them, and the right of indigenous communities to benefit from anthropological, archaeological, development, and genetics research.
Both events are free & open to the public
. Venues are wheelchair-accessible.  The Anthropology Bldg. is on Redondo Rd. between Las Lomas & M.L.King.  Unless you have a UNM parking  permit, please park in a metered space either at Las Lomas & Redondo or along the W face of the Anthro. Bldg. on Redondo. Ticketing continues until 8 p.m. For information on 
JAR,
published by the University of New Mexico since 1945:  
www.journals.uchicago.edu/toc/jar/content
.  Subscriptions pay for the Lecture series.