Clark Field Archive and Library
Hours of Operation (Fall 2023)
Tuesday 8-12 & 1-4
Wednesday 12-2
Thursday 8-12 & 1-4
Friday 12-4
Please email
ClarkFieldArchive@unm.edu
with your requests for resources, questions, and collections.  We are located in Room 171 of the main Anthropology Building.
The Clark Field Archive and Library, formerly the Department Library, was named in honor of Clark Field in 1966.  The facility ho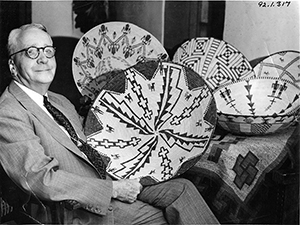 uses a collection of rare anthropological works as well as journals and various other items of interest to students of Anthropology.  The recent renovation of the reading room and efforts to increase accessibility to the UNM community will provide a comfortable, historic space for students and faculty to study, meet, and hold classes. Collections are available for UNM students, faculty and staff use.  For more information or to request access to the collection, email
ClarkFieldArchive@unm.edu.
In 1918, journalist Clark Field (1882-1971) developed an active interest in Indian pottery and basketry and began to collect these Native artworks. Clark Field meticulously photographed and recorded his collection, classifying baskets according to tribe and language, as well as the maker (when known).  He recorded the size, materials used, and weave of each basket in the collection.  In 1936, Dorothy Field entered the University of New Mexico.  It was at this time that Clark Field, her father, also began collecting pottery. 
(Photo above: Clark Field with a collection of Pima baskets, courtesy of the Maxwell Museum Photo Archive)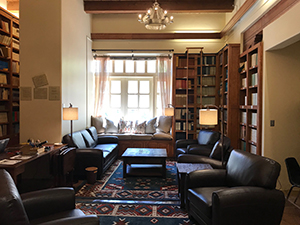 (Clark Field Archive and Library Reading Room)


Dorothy married Gilbert Maxwell, a well known Indian art trader in Farmington, New Mexico. In 1967, she donated $20,000 of her inheritance from her mother to construct the Maxwell Museum at the University of New Mexico.  She then donated her collection of Hopi Kachina dolls and her mother's Navajo textile collection. Gilbert Maxwell added his collection of Navajo textiles as well, which were rare and historically important. Many of Clark Field's collections were also moved to UNM. (Wyckoff, 29)

With Dorothy and Gilbert Maxwell's donation to the Maxwell Museum of Anthropology and in order to house her father's personal book collection, the Clark Field Archive and Library was established. Documents show that Clark Field continued to send his books to the archive until his death in 1971 at age 89.

In 1986, the baskets on loan to the Maxwell Museum were returned to the Philbrook Museum of Art in Tulsa, Oklahoma. Field's Native American collections, valued for their breadth, beauty, and outstanding quality, are valued at over four million dollars. The Clark Field Collections are now curated by the Philbrook.


The weaving of baskets is almost as old as the history of mankind.  Baskets were found among the early Egyptians and are referred to in the Bible in the time of Pharaohs, and they were found in the prehistoric caves of Utah, in the cave dwellings of Colorado and New Mexico, and in the Bluff Shelters of Arkansas. It is indicated that baskets were used by prehistoric man in North America—long before the days of Joseph of Biblical times.

Among many primitive races the baskets were a very necessary article of everyday life.  Almost the first household article made was a carrying basket.  Another was a basket in which to cook liquids.  The weaving of baskets among the Indians of our country preceded blanket weaving, beadwork, and pottery making. – Clark Field, 1952 (5)
The Indian woman (who did all of the basket weaving) has shown herself to be an artist in making baskets.  She has shown originality and creative ability.  She created the shape and form of a basket and the decorative design. Her skill is shown in the development of the weaving process, and the variations of the weaves. The Indian woman has not only proved herself to be an artist—but a creative artist since she has created, out of the wealth of her imagination, the patterns for her designs and for the patterns of weaving baskets. –Clark Field, 1952 (6)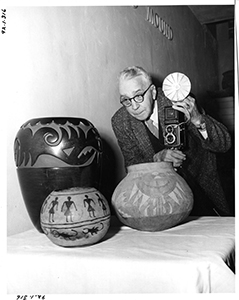 (Clark Field with a collection of pottery, courtesy of the Maxwell Museum Photo Archive)


Perhaps as much as anything else, it was [Clark Field's] innate appreciation of the beauty of Native American basketry that allowed him to become part of the weaving together of European-American and Native American worlds, as was made manifest in this basket.
[Lydia L. Wyckoff, Regarding Jicarilla Apache hamper, c 1915, 1948.39.124 a, b Philbrook Museum] (9)


Reference:
Woven Worlds: Basketry from the Clark Field Collection at the Philbrook Museum of Art
.  Edited by Lydia L. Wyckoff. Philbrook Museum of Art, Inc.  Tulsa, Oklahoma. 2001.