An Indigenous History of Resiliency and Revitalization at Picuris Pueblo
-Event-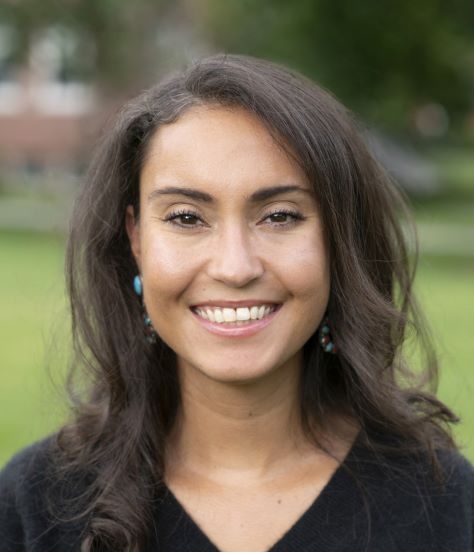 Start Date: Feb 18, 2022 - 02:00pm
Location: Presented via Zoom
Lindsay Montgomery will present her talk An Indigenous History of Resiliency and Revitalization at Picuris Pueblo virtually on Friday, February 18 at 2 pm as part of the 2022 Spring Anthropology Colloquia Speaker Series.  You can access the talk here.  You can obtain the passcode by emailing Dr. Ian Wallace at iwallace@unm.edu
Few Indigenous communities have experienced changes of fortune as extraordinary as those of Picuris Pueblo. The settlement was founded in the mountains of northern New Mexico during the 11th century and grew dramatically in the wake of large-scale migrations of Tewa-speaking groups into the Rio Grande valley. By the time the Spanish first encountered the village, Picuris had grown into a powerful center of interregional exchange. Things changed for the pueblo at the end of the 17th century, as European introduced epidemics took their toll on the population along with nomadic raiding and shifting economic alliances which restructured the Picuris economy. From one perspective, this is a story of the rise and fall of one of New Mexico's premier regional centers. From another perspective, however, Picuris resists this narrative of collapse. Picuris continues to be occupied and the modern community is building its bison herds, embracing tourism, and looking for new ways to educate the public about its history. This, then, is a story of resiliency and revitalization. Drawing on theories and methods in Indigenous archaeology, this talk discusses the work of the Picuris Pueblo Project, a collaborative multi-institutional archaeological research project, tasked with documenting Picuris important and complex history.  
Lindsay M. Montgomery is an anthropological archaeologist whose work seeks to create complex counter-histories focused on Indigenous persistence, resistance, and survivance in the North American West. Her work particularly focuses on the material and social histories of equestrian communities living in the Southwest and Great Plains from the 16th-20th centuries. Her research employs a collaborative and multi-disciplinary approach, which brings together archaeological, archival, oral historical, and ethnographic sources to understand interethnic interactions among Indigenous Peoples and with European settlers. Her current research revolves around a collaborative research project with Picuris Pueblo in northern New Mexico. This work explores the evolving social and economic relationship between Picuris Pueblo, other Pueblo communities, the Jicarilla Apache, and Hispano settlers through an investigation of agricultural practices at the Pueblo between 1400-1750 CE. 
Hosted by the UNM Department of Anthropology, the  Alfonso Ortiz Center for Intercultural Studies, and the Latin American and Iberian Institute (LAII)  the Department Colloquia Speaker Series will continue this semester. 
Upcoming speakers include:
February 25    Stephanie Fox (UNM)
March 4         David Stuart (UNM)
March 25       Kristina Lyons (University of Pennsylvania)
April 15          Webb Keane (University of Michigan)
April 22         Jana Valesca Meyer (UNM)
May 6           Shaylih Muehlmann (University of British Columbia)