Book Talk: The House of the Cylinder Jars
-Event-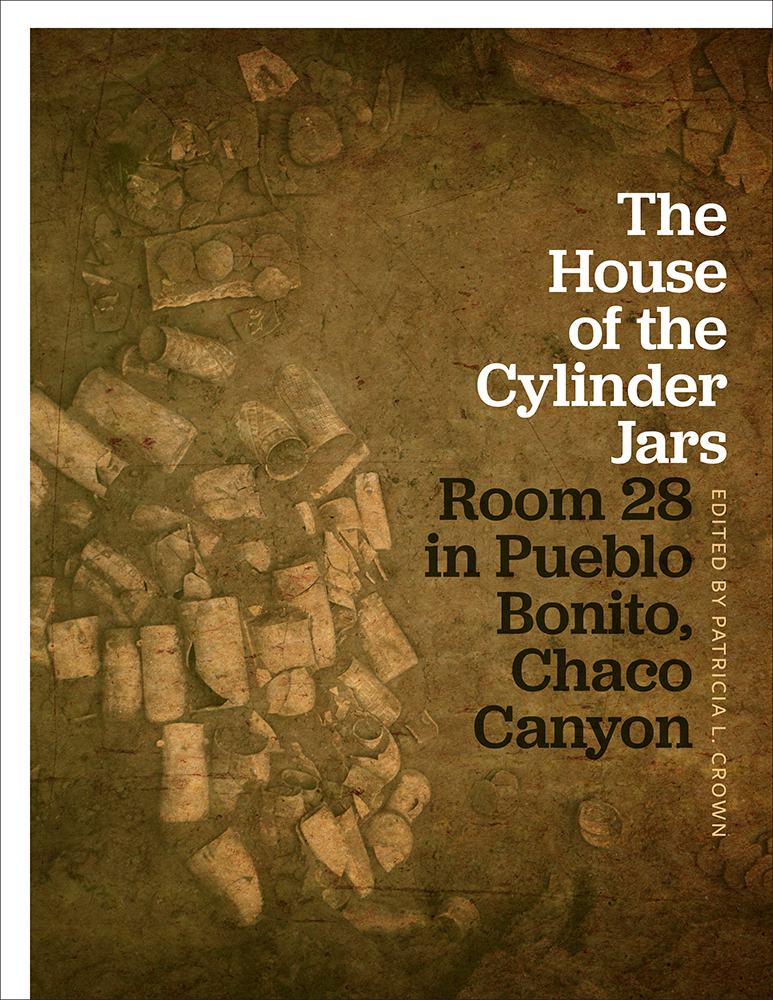 Start Date: Jan 28, 2021 - 10:00am
Location: Presented via GotoWebinar
The School for Advanced Research hosted the editor of The House of the Cylinder Jars (UNM Press 2020) Leslie Spier Distinguished Professor Patricia Crown (SAR's 2019 Weatherhead fellow), along with book contributors Hannah Mattson,  Cyler Conrad, and Jacque Kocer, for a deep dive into the history and archaeological excavations of Chaco Canyon. 
The House of the Cylinder Jars details the archaeological excavations led by Patricia L. Crown at Pueblo Bonito's famed Room 28 in Chaco Canyon in 2013. Originally excavated in 1896 by the Hyde Exploring Expedition, Room 28 gained notoriety for its incredible assemblage of 174 whole ceramic vessels. Crown and her team reopened Room 28 after she and Jeffrey Hurst discovered residues of chocolate in cylinder jar fragments from Pueblo Bonito in 2009. Their research revealed the first evidence of chocolate north of the US-Mexico border and possibly linked Chacoan rituals surrounding cacao use to Mesoamerica.
The House of the Cylinder Jars documents the re-excavation of Room 28, and places it within the context of other rooms at Pueblo Bonito, and describes the ritual termination by fire of the materials stored in the room. The contributors also offer a modern interpretation of the construction and depositional histories of surrounding spaces at Pueblo Bonito in Chaco Canyon.
About the speakers: 
Patricia L. Crown is the Leslie Spier Distinguished Professor of Anthropology at the University of New Mexico. She has worked in Chaco Canyon since 2005. She was a Weatherhead Scholar at SAR in 2019/2020, writing a book about Chacoan cylinder jars. She directed the re-excavation of a room in Pueblo Bonito in 2013, and the results of that study were published in 2020 by UNM Press as an edited volume, The House of the Cylinder Jars: Room 28 in Pueblo Bonito, Chaco Canyon.
Cyler Conrad has a PhD in anthropology (archaeology) from the University of New Mexico and is an archaeologist and Tribal Technical Liaison at Los Alamos National Laboratory. His research focuses on human-environmental interaction, including the relationship between humans and turkeys in the American Southwest/Mexican Northwest. Cyler's research has been funded by the National Science Foundation, National Geographic Society, and the School for Advanced Research, among others.
Jacqueline Kocer is a PhD Candidate at the University of New Mexico currently working on her dissertation examining Gallina (AD 1100-1300) ceramics. Her research involves the study of cultural identity through ceramic production practices. Jacque is an Indigenous archaeologist with Native New Mexican ancestry, and she is also an enrolled member of the Oglala Lakota. Upon graduation, she plans to teach at a tribal college and run her non-profit company that will include a collaborative research program and archaeological field school for Native American students.
Hannah Mattson is a Southwestern archaeologist and an Assistant Professor of Anthropology at the University of New Mexico. She specializes in the archaeology of Chaco Canyon and the larger Ancestral Pueblo region, personal adornment and social identity, ceramic technology, and public archaeology. She has authored numerous articles and book chapters on items of adornment from the northern Southwest and is currently editing a volume titled "Personal Adornment and the Construction of Identity: A Global Archaeological Perspective" that will be published in 2021.