Langston Hughes Project, Celebrating Black History Month
-Event-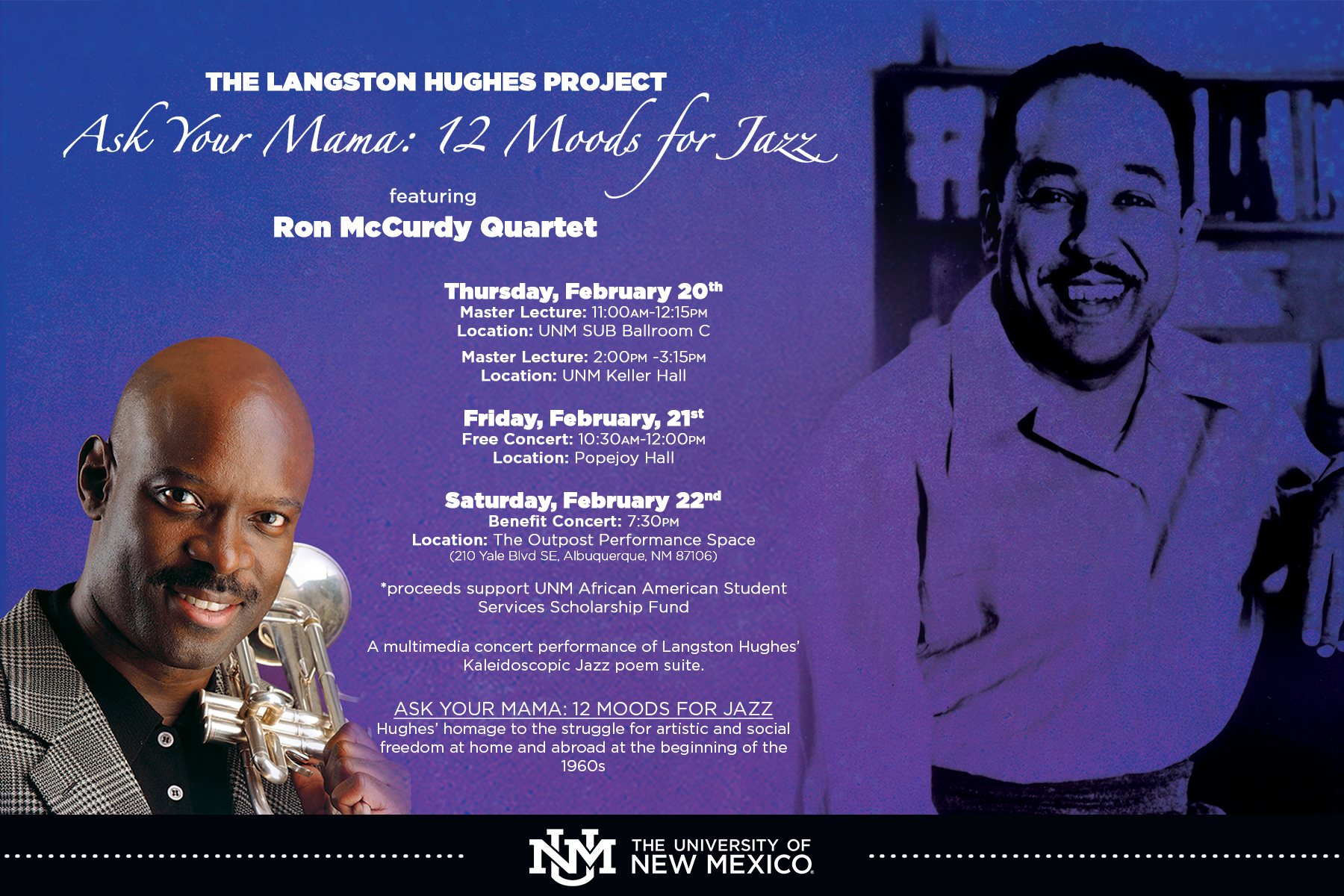 Start Date: Feb 20, 2020 - 11:00am
End Date: Feb 22, 2020 - 10:00pm
Location: Multiple Locations
To mark Black History Month, the University of New Mexico African American Student Services (AASS) will host two multimedia concert performance of Langston Hughes' Ask Your Mama: Twelve Moods for Jazz  featuring the Ron McCurdy Quartet Friday and Saturday, February 21 and 22, as well as master classes for students, faculty, and the public on Thursday, February 20.  
The Langston Hughes Project is a multimedia concert performance of Langston Hughes' kaleidoscopic jazz poem suite titled Ask Your Mama: Twelve Moods for Jazz. This is Hughes' homage in verse and music to the struggle for artistic and social freedom at home and abroad at the beginning of the 1960s. It is a 12-part epic poem which Hughes scored with musical cues drawn from blues and Dixieland, gospel songs, boogie-woogie, bebop, progressive jazz, Latin cha-cha, Afro-Cuban mambo music, German lieder, Jewish liturgy, West Indian calypso, and African drumming – a creative masterwork left unperformed at his death.
The performance is brought to life by the extraordinary talents of the Ron McCurdy Quartet. McCurdy is professor of music in the Thornton School of Music at the University of Southern California (USC) and is past president of the International Association for Jazz Education. Prior to his appointment at USC he served as director of the Thelonious Monk Institute of Jazz at USC. McCurdy will play trumpet, joined by New York University graduate Yuma Sung on piano and UNM Men of Color Initiative director Rodney Bowe playing bass. Albuquerque poet laureate and UNM alumnus Hakim Bellamy and other poets will also perform.
There is a free concert Friday, Feb. 21, at 10:30 a.m. at Popejoy Hall. Everyone is invited. RSVP for the event on the AASS website at afro.unm.edu.
On Saturday, Feb. 22, there is a benefit concert at the Outpost Performance Space at 7:30 p.m. Tickets are $25 general admission. The concert is a fund-raiser for the AASS Scholarship Fund. Get tickets for the event at afro.unm.edu or at the door. Donations to support Black student scholarships will be accepted at the door.
On Thursday, Feb. 20, Ron McCurdy will present a master class for UNM students from 11 a.m. to 12:15 p.m. in the SUB Ballroom C and another from 2 to 3:15 p.m. at Keller Hall. The Poets, Dancers and Musicians of the Harlem Renaissance will explore a period in American history when African Americans demonstrated the ability to make significant contributions to the intellectual and artistic landscape in America. The Artist Entrepreneur: Creating and Minding Your Own Business  offers an overview of the music business and how to assist emerging artists navigate and construct careers in the music and artistic business. Strategies for creating and mounting Big Idea Projects will be discussed. UNM students, faculty, and staff have seating priority but the class is open to the public on a space available basis.
The African American Student Services serves as a resource for UNM students of African descent and provides culturally relevant academic and social programs to support the matriculation and graduation of its students. Donations can be made to the AASS on its website at afro.unm.edu.
For more information on the event, contact Brandi Stone, director of African American Student Services and special advisor to the President on African American Affairs, at 505.277.2490 or by email at bcw29@unm.edu.