UNM Anthropology Annual Student Opportunities and Jobs Fair
-Event-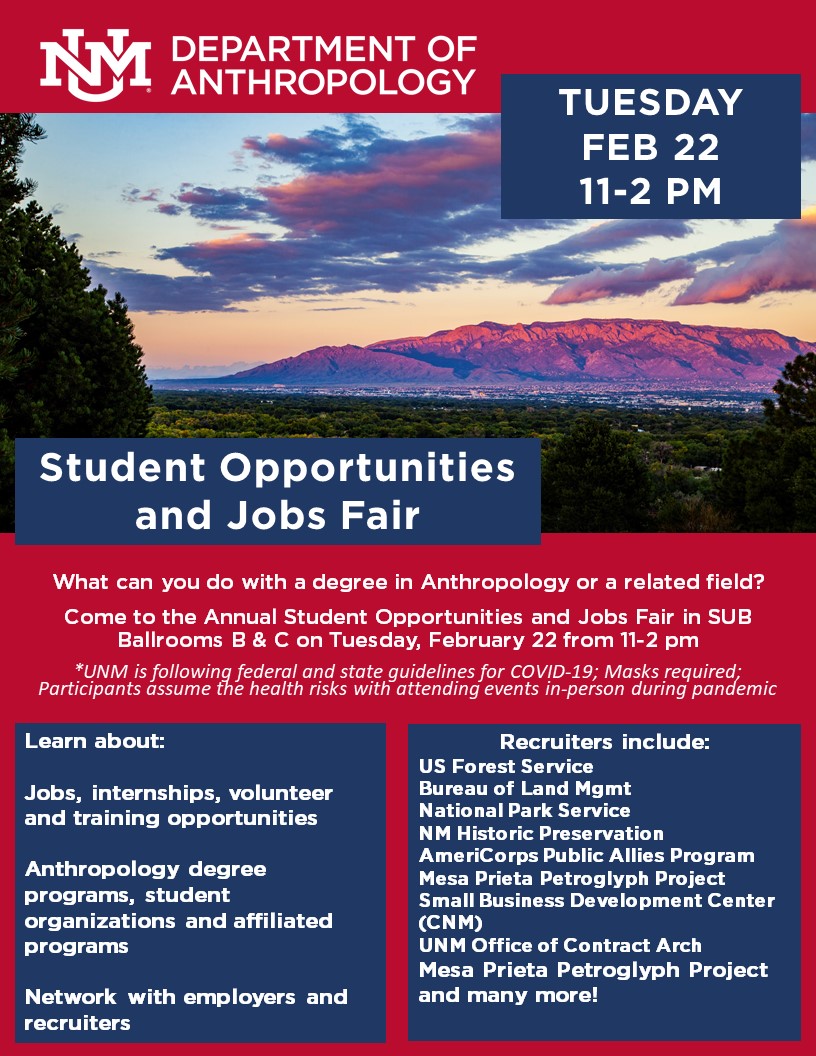 Start Date: Feb 22, 2022 - 11:00am
End Date: Feb 22, 2022 - 02:00pm
Location: UNM SUB Ballrooms B&C
The UNM Department of Anthropology is pleased to announce the return of our Annual Student Opportunities and Jobs Fair on Tuesday, February 22 from 11 to 2 pm in UNM SUB Ballrooms B&C.  The fair will host a variety of recruiters for employment, volunteer, internship, and other opportunities in Anthropology and related fields.  The fair is open to UNM students and community members.  We will also have tables with representatives from the Anthropology Graduate Student Union (AGSU), the Undergraduate Anthropology Society (UAS), the Maxwell Museum of Anthropology, and many others.

Recruiters include:

US Forest Service

Bureau of Land Management

National Park Service

New Mexico Historic Preservation Department

AmeriCorps Public Allies Program (with the UNM Community Engagement Center)

Small Business Development Center (CNM)

Mesa Prieta Petroglyph Project

UNM Office of Contract Archaeology (OCA)

UNM Office of the Medical Investigator (OMI)

Statistical Research, Inc. (SRI)

PaleoWest (archaeological consulting)

NV5 (engineering and environmental consulting)

SWCA (environmental consulting)

And many more!