Dr. Patricia Crown Awarded the SAR Weatherhead Resident Scholar Fellowship
Departmental News
Posted:  Apr 11, 2019 - 12:00am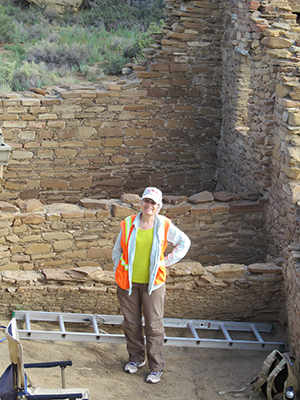 Dr. Patricia Crown, Leslie Spier Distinguished Professor of Anthropology, has been awarded the School for Advanced Research (SAR) Weatherhead Resident Scholar Fellowship for the 2019-2020 academic year.  Dr. Crown has conducted extensive research on the Chacoan cylinder jars for the past two decades at the Pueblo Bonito site in Chaco Canyon.  Her book will explore questions about the origins, meanings, and uses of these jars.  The book is intended to make a significant contribution to the fields of anthropology, archaeology, and history by combining a historical narrative of events surrounding the cylinder jars and associated ritual with an interpretation of how the vessels, contents, and ritual reflect larger processes of exchange, power relations, and economic inequality.   
Resident scholar fellowships are awarded annually by the School for Advanced Research (SAR) to up to six scholars who have completed their research and who need time to prepare manuscripts or dissertations on topics important to the understanding of humankind. Resident scholars may approach their research from the perspective of anthropology or from related fields such as history and sociology. Scholars from the humanities and social sciences are encouraged to apply.
The resident scholar selection process is guided by the School's longstanding commitment to support research that advances knowledge about human culture, evolution, history, and creative expression. SAR views its mission, its scholars, and its attractive campus environment as the connective tissue that supports the kinds of research that underlie its national reputation.
The School for Advanced Research, a 501(c)(3) not-for-profit educational institution, was established in 1907 to advance innovative social science and Native American art.  Its 15-acre residential campus is located on the historic east side of Santa Fe, New Mexico, the nation's oldest capital city.