Late Pleistocene and Early Holocene Microblade-Based Industries in Northeastern Asia: A Macroecological Approach to Foraging Societies
Departmental News
Posted:  Jan 31, 2022 - 12:00pm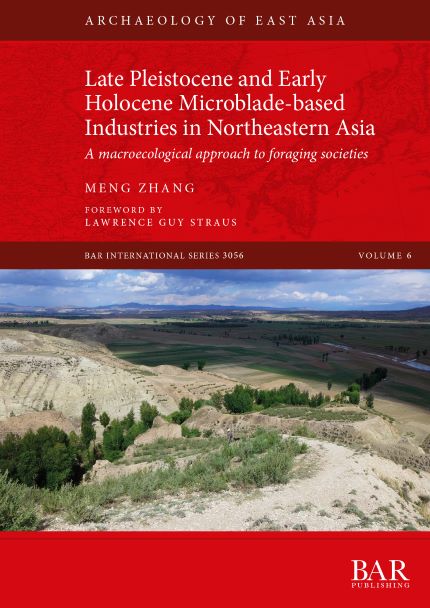 Dr. Meng Zhang (UNM 2019) has published his book Late Pleistocene and Early Holocene Microblade-Based Industries in Northeastern Asia: A Macroecological Approach to Foraging Societies. The work uses an original theoretical framework to reinterpret an enduring and controversial research question in Stone Age archaeology, creatively uses Binford's frames of reference to reconstruct lifeways of foraging societies against both interglacial and glacial climate conditions, and is the latest and most comprehensive monograph on microblade technology in northeastern Asia.
Abstract 
The rise and fall of microblade technology during the late Pleistocene and early Holocene is not only a part of the panorama of global microlithization, but also a key question linked to human adaptive change in the face of climate fluctuation. This monograph creatively uses Lewis Binford's macroecological approach developed from his book Constructing Frames of Reference (2001) against both interglacial and glacial climate conditions, to provide an explanation of variation and change among late Pleistocene and early Holocene microblade-based industries in northeastern Asia. It uses six case studies to discuss two waves of cultural change linked with issues of the origin of microblade technology and the Palaeolithic to Neolithic transition. These cover the formation and convergence of microblade-based societies (MIS 3 to MIS 2), referring to case studies in Siberia and Northern China, and the development and ultimate divergence of microblade-based societies (MIS 2 to MIS 1), involving case studies in the Japanese Archipelago, Eastern Siberia, Northern China, and the Tibetan Plateau. 
Meng Zhang is a Junior Research Fellow (Assistant Professor) at the Department of Cultural Heritage and Museology, and the Institute of Archaeological Science, Fudan University. He was awarded his BA and MA at Jilin University, and his PhD at the Department of Anthropology, University of New Mexico.
This book will appeal to archaeologists who are interested in the Paleolithic, human evolution, archaeological theory, ethnoarchaeology, and "the First Americans" problem, and ethnologists who are interested in foraging societies, prehistoric hunter-gatherers, and paleodemography. The monograph will also be of interest to students and professionals in these fields.
Reviews
'This work by Zhang Meng is monumental in terms of time, geography, and theory, and it sets a high bar for all future work on China's Paleolithic through Neolithic prehistory.'  Professor Robert L. Kelly, University of Wyoming
'This important work addresses the evolution of hunter-gatherer societies and the transition to sedentary lifeway. These issues, as well as the development of new technologies by human societies are pivotal subjects in the history of Northeast Asia and the development of human society more generally . To address those issues Meng Zhang is using new and innovative theoretical and methodological perspectives.'  Professor Gideon Shelach, Hebrew University of Jerusalem
'Because this work is rooted in a cross-cultural approach to hunter-gatherers, it is informative to researchers throughout the world. Also, it touches upon the peopling of the Americas so would be interesting to researchers working on Paleoindian North America and the early inhabitation of the northern Arctic.'  Dr Joshua Wright, University of Aberdeen