Linking Late Paleoindian Stone Tool Technologies and Populations in North, Central and South America
Departmental News
Posted:  Jul 22, 2019 - 12:00am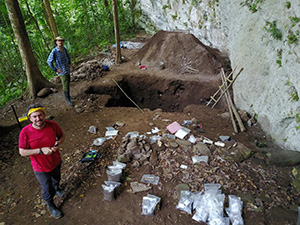 In new research published recently in PLOS One titled Linking late Paleoindian stone tool technlogies and populations in North, Central and South America, UNM scientists led a study in Belize to document the very earliest indigenous stone tool tradition in southern Mesoamerica.
"This is an area of research for which we have very poor data regarding early humans, though this UNM-led project is expanding our knowledge of human behavior and relationships between people in North, Central and South America," said lead author Keith Prufer, professor from The University of New Mexico's Department of Anthropology.
This research, funded by grants from the National Science Foundation and the Alphawood Foundation, focuses on understanding the Late Pleistocene human colonization of tropics in the broad context of global changes occurring at the end of the last ice age (ca. 12,000-10,000 years ago). The research suggests the tools are part of a human adaptation story in response to emerging tropical conditions in what is today called the Neotropics, a broad region south of the Isthmus of Tehuantepec (in S Mexico).
Read the full UNM News article, and access the PLOS One article here