Old Answers to New Questions: Traditional Water Management as a Solution to Climate Change
Departmental News
Posted:  Apr 12, 2021 - 12:00pm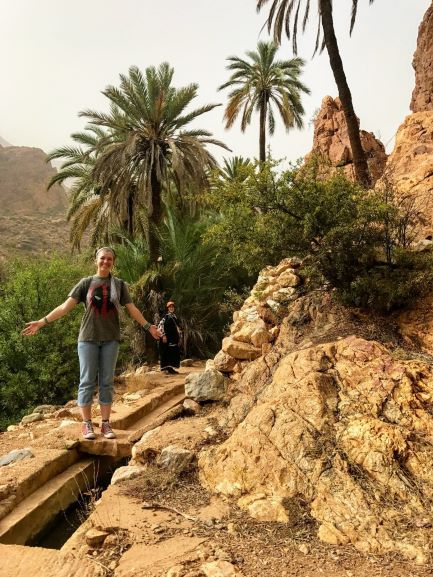 Public Archaeology student Emily Hayes-Rich  has been selected for both a Fulbright Award and an AAUW-UNM Scholarship to support her master's research, Old Answers to New Questions: Traditional Water Management as a Solution to Climate Change.   Emily will spend next academic year in Morocco studying the long-term history of the khettara irrigation networks and their resilience through time.
Emily's research will examine the traditional and modern irrigation systems across Morocco in order to develop a deeper understanding of the historical water management and its applications towards the growing threat of climate change. She plans to focus on how the khettara, a traditional irrigation system, can illuminate the correlation between environmental and societal factors in relationship to the implementation and abandonment of the khettara in Morocco. It is her belief that there is a strong correlation between the societal factors (state authority, religious beliefs, and economic structure), as well as the environmental factors, that impacts the success of rural desert communities. By understanding the historical trends that lead to the life and death of the khettara in Morocco, we can better understand how to manage and assist modern day communities struggling under the effects of desertification and climate change.
The research will involve interviews with people impacted by the changes in climate, archaeological survey of the khettara and accompanying qsors (historic towns), and archival records of the irrigation systems. The data gained during her fieldwork will be analyzed using Geographical Information Systems (GIS). Using a combination of scientific, historic, and archaeological techniques, Emily will help provide a holistic understanding of traditional water systems and their place in the modern world. In Morocco she will be working with Dr. Jamila Bargach at the non-profit organization Dar Si Hmad and Dr. John Shoup at the Al Akhawayn University of Ifrane. Her faculty mentors include Dr. Frances Hayashida of University of New Mexico and Dr. Dale Lightfoot of University of Oklahoma. This research would hopefully provide answers to historical inquiries, as well as inform on answers to current issues regarding global climate change.