William Taylor Awarded the UNM Popejoy Prize
Departmental News
Posted:  Apr 11, 2019 - 12:00am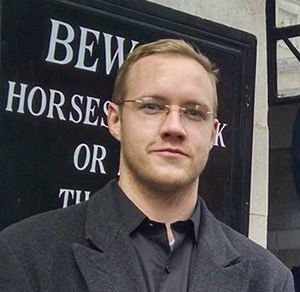 Dr. William Taylor, alum of the UNM Department of Anthropology Archaeology program, has been awarded the Tom L. Popejoy Dissertation Prize, awarded annually by the University of New Mexico to recognize the highest level of academic excellence among our doctoral students.

The Tom L. Popejoy Dissertation Prize was established as a permanent memorial to the late Tom L. Popejoy, President of the University of New Mexico from 1948 to 1968. The award recognizes and encourages the highest level of academic excellence.
Dr. Taylors dissertation, entitled
The Origins of Horse Herding and Riding in the Eastern Steppe
, explores the origins of domestic horse husbandry and mounted horseback riding in Mongolia and eastern Eurasia. Drawing upon both existing and newly developed techniques in archaeozoology, equine osteology, 3D scanning, radiocarbon dating, and quantitative analysis, the study presents the first direct evidence for mounted horseback riding in eastern Eurasia. Results demonstrate a tight link between the adoption of horse transport, horse herding, and the initial formation of nomadic pastoral economies, which became the economic engine of later trans-Eurasian empires like Genghis Khan and the Xiongnu. New analytical methods for tracing human activity using equine skeletal remains developed through this research promise to greatly expand archaeological understanding of horse domestication and human-horse relations in both the New and Old Worlds.
Dr. William Taylor is an archaeologist and researcher at the Max Planck Institute for the Science of Human History in Jena, Germany. Born and raised in Montana, his research explores the ways that horses and other domestic animals have impacted human societies and human history around the globe. William is a National Geographic Young Explorer, receiving his Ph.D. with distinction from the University of New Mexico in 2017. His research has been funded by the National Science Foundation, National Geographic, the U.S. Fulbright Student Research program, and a number of other national and international granting agencies. Dr. Taylor's work on early horse culture in Mongolia and Central Asia has been featured by CNN and Science Magazine, and published in leading international journals such as
Proceedings of the National Academy of Sciences
and
PLoS One.