Frances M Hayashida
Professor
Director, Latin American and Iberian Institute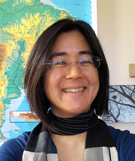 Archaeology
At UNM since 

2008

Email: 

Phone: 

505-277-6692
 
Recent Courses:
Career Planning and Professionalization (ANTH 1996)
Current Debates in Archaeology (ANTH 579
Anthropological Proposal Writing (ANTH 675)
Archaeological Method and Theory (ANTH 1120)
Current Research in Anthropology: Food, Foraging, and Farming (ANTH 304)
South American Archaeology (ANTH 321/521)
Archaeology of Complex Societies (ANTH 529)
Education:
BA (with distinction), Stanford University (1984)
MA, Stanford University (1984) 

PhD, University of Michigan (1995)
Dissertation: "State Pottery Production in the Inka Provinces"
Research:
States and empires, political economy, political ecology, agriculture and water management in arid environments, ritual practices, human impacts on the environment, craft production, beer brewing, ethnohistory, ethnoarchaeology, archaeometry; Andean South America (Peru and Chile).
Recent Publications:
Accepted        Hayashida, F., A. Troncoso and D. Salazar, editors. Rethinking the Inka. University of Texas Press, Austin.
2019   Hayashida, F. Inka state pottery production: Insights from characterization studies on the north coast of Peru.  In Ceramics of Indigenous Cultures of South America: Production and Exchange,  edited by M. Glascock, H. Neff, and K. Vaughan.  University of New Mexico Press, Albuquerque.  
2019   Hayashida, F. Making connections in Food, Foraging, and Farming. In Pedagogy and Practice in Heritage Studies, edited by Susan Bender and Phyllis Messenger, pp 198-212. University of Florida Press, Gainsville.
2018  Hayashida, F. and N. Guzman Leyendo el registro material del gobierno inka: Estilo, política e imperio en la costa norte del Perú. In El Imperio Inka, edited by I. Shimada.  Fondo Editorial Pontificia Universidad Católica, Lima. 
2017 Parcero-Oubiña, C., P.Fábrega-Álvarez, D. Salazar, A. Troncoso, F. Hayashida, M. Pino, C. Borie, E. Echenique Ground to air and back again: Archaeological prospection to characterize prehispanic agricultural practices in the high-altitude Atacama (Chile).  Quaternary International 435 Part B:98-113.
doi:10.1016/j.quaint.2015.12.050.
2017 Hayashida, F. Epilogue.   In The Archaeology of Human-Environment Interactions: Strategies for Investigating Anthropogenic Landscapes, Dynamic Environments, and Climate Change in the Human Past,  edited by D. Contreras, pp. 259-264.  Routledge, London.
2016 Parcero-Oubiña, C., P. Fábrega-Álvarez, A. Troncoso, D.Salazar, F. Hayashida, C. Borie, M. Pino  Sistemas agrohidráulicos de los períodos intermedio tardío y tardío en el Loa superior: El caso de Topaín.  Boletín de la Sociedad Chilena de Arqueología, 46:23-42.
2016 Parcero-Oubiña, C., P.Fábrega-Álvarez, A. Troncoso, D. Salazar, F. Hayashida, A. Güimil-Fariña, P. Mañana-Borrazás, M. Pino and C. Borie  Introduciendo orden en el registro mediante tecnologías no destructivas: experiencias en el estudio de paisajes agrarios prehispánicos en la región de Atacama (Norte de Chile). In Revalorización de zonas arqueológicas mediante el empleo de técnicas no destructivas, edited by V. Mayoral Herrera. CSIC, Madrid.