Heather J H Edgar
Associate Professor
Forensic Anthropologist, Office of the Medical Investigator (OMI)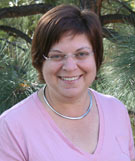 Evolutionary Anthropology
At UNM since 

2003

Email: 

 
Recent Courses:
Topics in Biological Anthropology: Are There Human Races? (ANTH 450/550)
Human Paleopathology (ANTH 454/554)
Dental Anthropology (ANTH 458/558)
Advanced Osteology (ANTH 459/559)
Museum Collections Management (MSST 476/576)
Education:
University of Nevada, Las Vegas, Anthropology, BA 1990

Arizona State University, Anthropology, MA 1994

The Ohio State University, Anthropology, PhD 2002
Dissertation: "Biological Distance and the African-American Dentition"
Research:
Biocultural aspects of human variation: bioarchaeology, dental anthropology, human biology, African American and Hispanic American biological anthropology, forensic anthropology
Recent Publications:
Ragsdale CS, Edgar HJH. in press. Population Continuity and replacement in the pre-contact Valley of Mexico. In: Willermet CM, Cucina A (editors) Interdisciplinary approaches to the bioarchaeology of Mesoamerica. University of Florida Press.
Edgar HJH. 2017. Dental Morphology for Anthropology: An Illustrated Manual. Routledge.
Edgar HJH, Ousley SD. 2016. Dominance in dental morphological traits: implications for biological distance studies. In: Pilloud MA, Hefner JT, editors. Biological distance analysis: forensic and bioarchaeological perspectives. Elsevier. 317-334.
Pilloud MA, Edgar HJH, George R. 2016. Dental morphology in biodistance analysis: bioarchaeological and forensic applications. In: Pilloud MA, Hefner JT, editors. Biological distance analysis: forensic and bioarchaeological perspectives. Elsevier. 109-134.
Healy ME, Gross J, Hill D, Berwick M, Edgar HJH, Hunley KL. 2017. Social-group identity and population substructure in admixed populations in New Mexico and Latin America. PLoS ONE 12(10):e0185503.
Cucina A, Edgar, HJH, Ragsdale CR. 2017. Oaxaca and its neighbors in prehispanic times: population movements from the perspective of dental morphological traits. Special issue: The bioarchaeology of Oaxaca. J Archaeological Sci: Reports. 13:751-758.
O'Donnell A, Daneshvari SR, Edgar HJH. 2016. Can cephalometrics be used to estimate sex in juveniles? J Forensic Sci. DOI: 10.1111/1556-4029.13300
Ragsdale C, Edgar HJH, Melgar E. 2016. Origins of the offerings of the Templo Mayor, Tenochtitlan. Cur Anthropol 57(3)357-369.
Ragsdale CR, Edgar HJH. 2016. Cultural effects on phenetic distances among Postclassic Mexican and Southwest United States populations. Int J Osteoarchaeology. 26(1):53-67.
Hotchkiss WR, Schwend RM, Bosch PP, Edgar HJH, Young BN. 2016. Defining the differences in transverse plane trajectories for thoracic pedicle screw insertion: anatomic versus medial. Spine Deformity 4:22-26.