Heather J H Edgar
Professor
Convener, Evolutionary Anthropology; Forensic Anthropologist, Office of the Medical Investigator (OMI); Director, Bridge Lab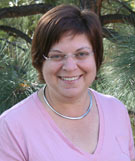 Evolutionary Anthropology
At UNM since 

2003

Email: 

 

Website/s:
Recent Courses:
Human Paleopathology (ANTH 454/554)
Dental Anthropology (ANTH 458/558)
Advanced Osteology (ANTH 459/559)
Forensic Anthropology (ANTH 251)
Education:
BA, University of Nevada (1990)

MA, Arizona State University (1994)

PhD, The Ohio State University (2002)
Dissertation: "Biological Distance and the African-American Dentition"
Research:
Biocultural aspects of human variation: bioarchaeology, dental anthropology, human biology, African American and Hispanic American biological anthropology, forensic anthropology
Recent Publications:
Rautman ALM, Edgar HJH. in press. Childhood variation in skeletal and dental development. Dental Anthropology Journal.
Berry SD, Edgar HJH. 2019. Standardizing Data from the Dead. Stud Health Technol Inform 264:1427-1428.
Ragsdale CS, Willermet C, and Edgar HJH. 2019. Changes in indigenous population structure in colonial Mexico City and Morelos. Int J Osteoarchaeology 39(4):501-512. https://doi.org/10.1002/oa.2743
Gross J, Edgar H. 2019. Informativeness of dental morphology in ancestry estimation in African Americans. Am J Phys Anthropol. https://doi.org/10.1002/ajpa.23768
Healy M, Edgar HJH, Mosley C, Hunley KL. 2018. Associations between ethnic identity, regional history, and genomic ancestry in New Mexican of Spanish-speaking descent. Biodemography and Social Biology 64(2): 152-170. DOI:10.1080/19485565.2018.1545563
Pilloud MA, Maier C, Scott GR, Edgar HJH. 2018. Molar crenulation trait definition and variation in modern human populations. Homo: J Comparative Hum Biol DOI:10.1016/j.jchb.2018.06.001
Edgar HJH. 2017. Dental Morphology for Anthropology: An Illustrated Manual. Routledge.
Hunley KL, Edgar HJH, Healy M, Mosley C, Cabana G, West F. 2017. Social Identity in New Mexicans of Spanish-Speaking Descent Highlights Limitations of Using Standardized Ethnic Terminology in Research. Hum Biol 89(3):Article 4.
Daneshvari Berry S, Edgar HJH. 2017. Development of a large-scale, whole body CT image database. AMIA Annual Symposium Proceedings 1951.
Healy ME, Gross J, Hill D, Berwick M, Edgar HJH, Hunley KL. 2017. Social-group identity and population substructure in admixed populations in New Mexico and Latin America. PLoS ONE 12(10):e0185503.
Cucina A, Edgar, HJH, Ragsdale CR. 2017. Oaxaca and its neighbors in prehispanic times: population movements from the perspective of dental morphological traits. Special issue: The bioarchaeology of Oaxaca. J Archaeological Sci: Reports. 13:751-758.