Chaco Canyon Archaeological Research Lab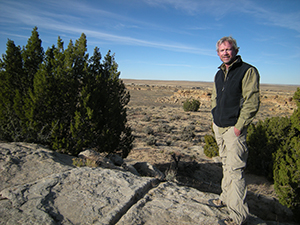 Director/s:

Dr. Chip Wills


Location: 

Anthropology 143

Description
The UNM Department of Anthropology has been conducting field schools and research at Chaco Canyon National Historical Monument since 1929.  The history of Southwestern archaeology, Chaco Canyon, and the University of New Mexico are deeply intertwined, largely through Edgar Lee Hewett, the first UNM Anthropology department chair. Dr. Hewett was instrumental in the passage of the Antiquities Act in 1906 that gave protection to archaeolgical resources on federal land.  He saw a need for such a law to protect places like Chaco Canyon from profiteering relic hunters seeking artifacts for private museums.  President Theodore Roosevelt designated Chaco Canyon as a National Monument in 1907. 
The first UNM field school in Chaco Canyon was led by Hewett in 1929.  In 1969, John Corbett, an alumni of the early Chaco Canyon field schools, was instrumental in leading a joint National Parks Service/University of New Mexico research projgram in Chaco Canyon, known as the Chaco Center and directed by field school alumni Robert Lister. 
Field schools and research at Chaco Canyon continue today, led by department faculty Dr. Chip Wills and Dr. Patricia Crown.