Environmental Archaeology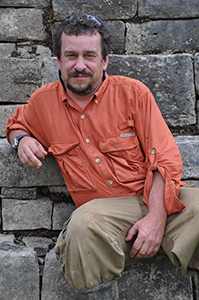 Director/s:

Dr. Keith Prufer


Location: 

Anthropology 142

Description
The Environmental Archaeology Laboratory at the University of New Mexico is in the Anthropology Building, Room 144 while our CSI Radiocarbon lab is located in Cassetter Hall Rm. 155.  
The lab is set up for basic chemistry and includes both dry- and wet-lab areas.  Standard laboratory equipment includes a new fume hood, Millipure water purification, drying oven, two muffle furnaces, semi-micro balances, dissecting and mineralogical microscopes, Hettich Rotofix centrifuge, and general lab supplies, magnetic stirrer.  We also have an international USDA/APHIS permit for importing soils from around the world. This lab is equipped for preparation of samples for radiocarbon analyses, including ABA methods for charcoal and organics; Ultrafiltration and XAD for archaeological bone, and removal of mobile humin and humic fractions from soils for stable isotope measurements. Our lab works closely and is integrated with the UNM Center for Stable Isotopes
Our radiocarbon lab allows us to take chemically prepared samples and reduce them to CO2 gas and further to graphite targets by a Bosch reaction in a H2 atmosphere. 
Other capabilities include a Bruker Tracer III-V+ Portable XRF for elemental analysis of a wide range of materials. The Dry lab houses artifact storage and GIS workstations running ESRI software and QCoherent LP360 for analysis of LiDAR datasets. We also maintain electronic tools used in the field. Field based tools housed in the lab include a Leica System 1200 RTK GPS that allows us to map with sub-centimeter accuracy in real time. This is supplemented with a Leica System 1200 TPS total survey station that integrates seamlessly with the GPS and functions in both prism-less and robotic modes.
We consider outside work with pXRF, radiocarbon sample preparation (particularly but not limited to difficult to date bone and other organic materials) and preparation of samples for light or heavy isotope studies.  Contact us with any questions:  kmp – at – unm.edu