National Native American Heritage Month, November 2021
Departmental News
Posted:  Oct 29, 2021 - 12:00pm
The UNM Department of Anthropology celebrates National Native American Heritage Month, November 2021. Click on the red links below for more information. Scroll down to read about Native American Heritage Month history, Native American scholars, events, research, news and Native American organizations.
About National Native American Heritage Month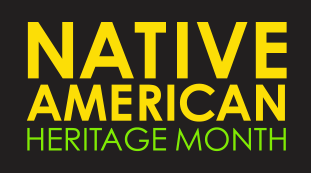 "One of the very [first] proponents of an American Indian Day was Dr. Arthur C. Parker, a Seneca Indian, who was the director of the Museum of Arts and Science in Rochester, N.Y. He persuaded the Boy Scouts of America to set aside a day for the "First Americans" and for three years they adopted such a day. In 1915, the annual Congress of the American Indian Association...directed its president, Rev. Sherman Coolidge, an Arapahoe, to ...[declare] the second Saturday of each May as an American Indian Day and contained the first formal appeal for recognition of Indians as citizens.  ...The first American Indian Day in a state was declared on the second Saturday in May 1916 by the governor of New York. Several states celebrate the fourth Friday in September....In 1990 President George H. W. Bush approved a joint resolution designating November 1990 "National American Indian Heritage Month." Similar proclamations, under variants on the name (including "Native American Heritage Month" and "National American Indian and Alaska Native Heritage Month") have been issued each year since 1994."  Read more
The National Congress of American Indians (NCAI) Celebrates Native American Heritage Month
"The month is a time to celebrate rich and diverse cultures, traditions, and histories and to acknowledge the important contributions of Native people. Heritage Month is also an opportune time to educate the general public about tribes, to raise a general awareness about the unique challenges Native people have faced both historically and in the present, and the ways in which tribal citizens have worked to conquer these challenges." 
The National Parks Service Celebrates National Native American Heritage Month
"America is a vast land of many cultures dating back thousands of years to the original inhabitants of the land. History, heritage, or culture of Native Americans, Alaska Natives, and Native Hawaiians are part of every national park and communities across the country today. Every November during Native American Heritage Month and throughout the year, the National Park Service and our partners share history and the continuing culture of America's indigenous peoples."
National Geographic Honors Native American Heritage Month
"The United States celebrates Native American Heritage Month in November during which National Geographic acknowledges the Indigenous peoples of the Americas. This collection celebrates the history, accomplishments, culture, and lives of American Indians. In so doing, we acknowledge the systemic discrimination these communities face in our nation and our collective efforts aim to advance a more diverse, inclusive, and equitable future."
The Public Broadcasting System (PBS) Celebrates National Native American Heritage Month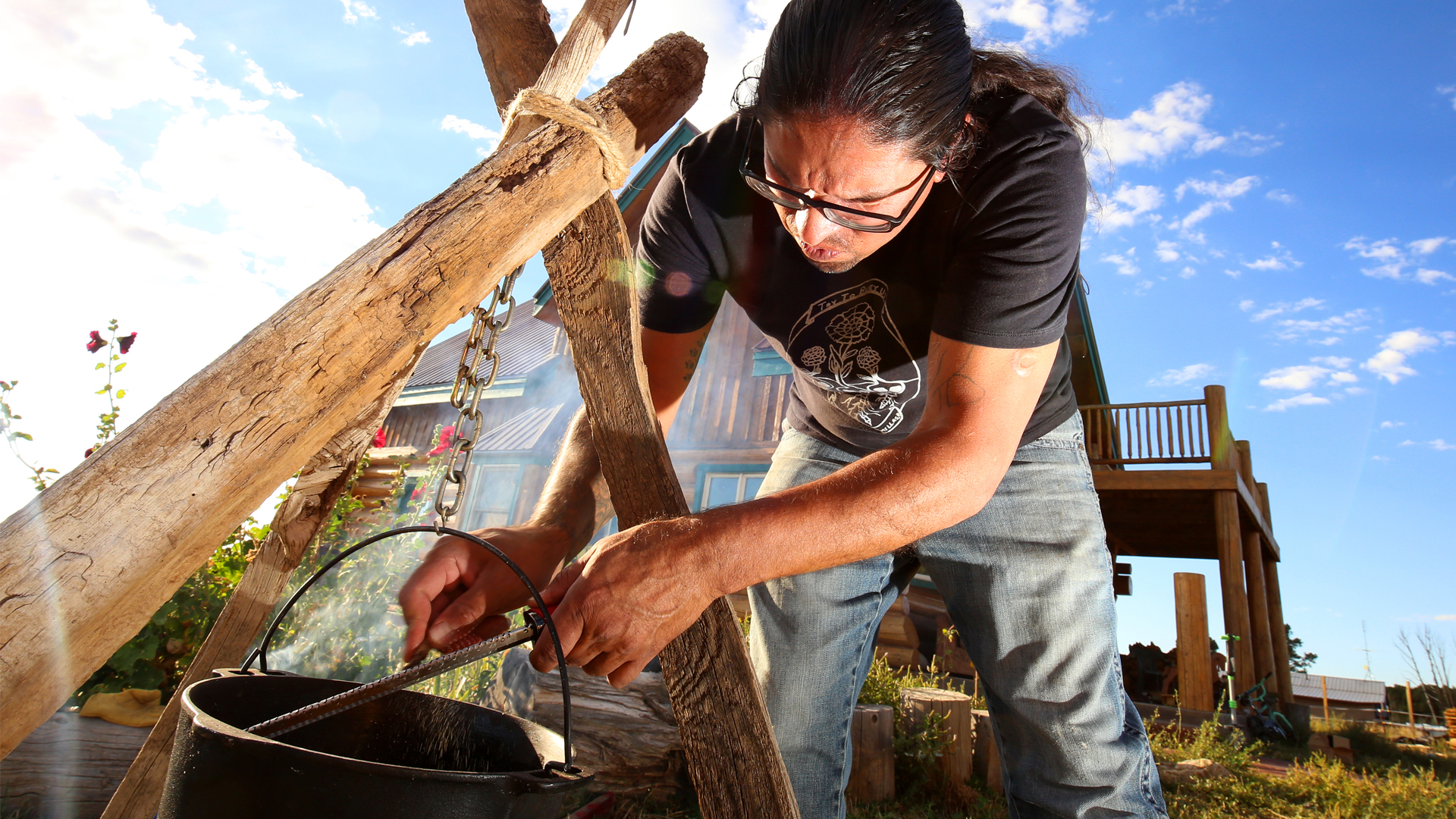 "Native American Heritage Month has evolved from its beginnings as a week-long celebration in 1986, when President Reagan proclaimed the week of November 23-30, 1986 as "American Indian Week." Every President since 1995 has issued annual proclamations designating the month of November as the time to celebrate the culture, accomplishments, and contributions of people who were the first inhabitants of the United States.  Through dance, family traditions, and music, these stories show the diversity and long history of Indigenous people across the United States. Celebrate the history, culture, and traditions of American Indians and Alaska Natives in a special collection of films, short stories, and resources from Public Television."  PBS offers free documentaries online such as: Standing Bear's Footsteps: The story of an Indian chief who redefined what it means to be an American; Unspoken: America's Native American Boarding Schools; Urban Rez: How do Native Americans maintain their culture in a dominant society?; Kind Hearted Woman Part One: An unforgettable portrait of a single mother living on North Dakota's Spirit Lake Reservation; First People - Kumeyaay: Explore the culture of the Kumeyaay Nation; Playing for the World: A unique look at a Native American female basketball team as well as short films, and #NativeInspired recipes from PBS Food  Watch now

Standing Bear v. Crook (1879)
"In the 1870s and '80s, Chief Standing Bear's declaration of his humanity in a powerful courtroom speech established him as one of the nation's earliest civil rights heroes who is starting to gain visibility in the 21st Century."
Tribal Entities in the United States
There are currently 573 Tribal entities recognized and eligible for funding and services from the Bureau of Indian Affairs (BIA) by virtue of their status as Indian Tribes. See the full list
Native American Scholars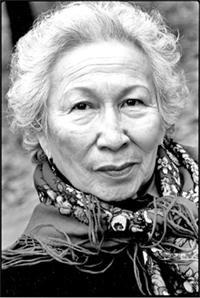 "Hinsha Waste Agli Win - Dr. Beatrice Medicine  (1923 - 2005) (Sihasapa and Minneconjou Lakota) was a scholar, anthropologist, and educator known for her work in the fields of Indigenous languages, cultures, and history. Medicine spent much of her life researching, teaching, and serving Native communities, primarily in the fields of bilingual education, addiction and recovery, mental health, tribal identity, and women's, children's, and LGBT community issues." She "...defied stereotypes, racism, and sexism in her life and work while combating the reductive, patronizing views of Native Americans perpetuated by mainstream anthropologists. [Her book] Learning to Be an Anthropologist and Remaining "Native" includes Medicine's clear-eyed views of assimilation, bilingual education, and the adaptive strategies by which Native Americans have conserved and preserved their ancestral languages. Her discussions of sex roles in contemporary Native American societies encompass homosexual orientation among males and females and the "warrior woman" role among Plains Indians as one of several culturally accepted positions according power and prestige to women. The volume also includes Medicine's thoughtful assessments of kinship and family structures, alcoholism and sobriety, the activism implicit in the religious ritual of the Lakota Sioux Sun Dance, and the ceremonial uses of Lakota star quilts. "The Native American is possibly the least understood ethnic minority in contemporary American society," Medicine observed. Her decades of deliberate, generous, dedicated work have done much to reveal the workings of Native culture while illuminating the effects of racism and oppression on Indian families, kinship units, and social and cultural practices." The Smithsonian Institution maintains online digital archive, the "Beatrice Medicine Papers." Learn more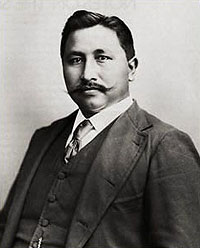 Francis La Flesche (1857-1932) was "the second son of Omaha chief Joseph La Flesche. In 1879 [he] accompanied his sister, Susette, and uncle, Ponca chief Standing Bear, on their grueling Eastern crusade for Indian land reform, and took a job a year later as a copyist for the Bureau of Indian Affairs, working at night to complete two law degrees. He formally transferred to the Bureau of American Ethnology in 1910...During his tenure at the Bureau of American Ethnology he also began his lifelong friendship and collaboration with Alice Fletcher, who became first his employer, then his tutor and colleague, and who eventually adopted him as her son. Between 1880 and 1910 Fletcher and La Flesche collected extensive data on the Omaha people. La Flesche's status on the reservation, his knowledge of the language, and his early participation in tribal rituals proved invaluable in their research. He was strongly committed to preserving every detail of Omaha life because he wanted non-Indians to understand the spiritual nature of Indian culture. ...Fletcher and La Flesche's most fruitful collaboration resulted in the publication of The Omaha Tribe  in 1911, the culmination of nearly 30 years of meticulous gathering, sorting, and synthesizing data on the Omaha Indians." Read more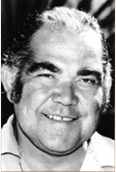 Dr. Alfonso Ortiz (1939-1997) "was a member of the Pueblo of Ohkay Owingeh, Professor of Anthropology at the University of New Mexico and a MacArthur fellow. Born in Espanola to an inter-cultural family, Ortiz graduated from the University of New Mexico with a degree in Anthropology in 1961. He went on to earn a masters degree in 1963 and his PhD in 1967 from the University of Chicago. Ortiz believed that scholarship about American Indian people should not be limited to universities and academics, but that members of Indian communities should undertake it as well."  In 2000, the Alfonso Ortiz Center for Intercultural Studies was founded at the University of New Mexico.  "The collaborative vein that the Alfonso Ortiz Center promotes is one that shares research and practice to bring about learning and growth in understanding similarities and differences in outlook. Alfonso Ortiz was also responsible for supporting many Indian communities throughout the Southwest and nationally, and in that spirit of his legacy the Alfonso Ortiz Center for Intercultural Studies was created." Visit the Alfonso Ortiz Center for Intercultural Studies to learn more

"Gladys Tantaquidgeon (1899–2005) brought an Indigenous worldview to her ethnobotanical research among the Delaware, Nanticoke, Cayuga, and Wampanoag tribes of the East Coast. Born to Mohegan parents, Tantaquidgeon trained in Indigenous practices with Mohegan knowledge keepers Emma Baker, Mercy Mathews, and Fidelia Fielding. She published significant works on tribal knowledge and on the use of local natural resources to create traditional herbal medicines." Read more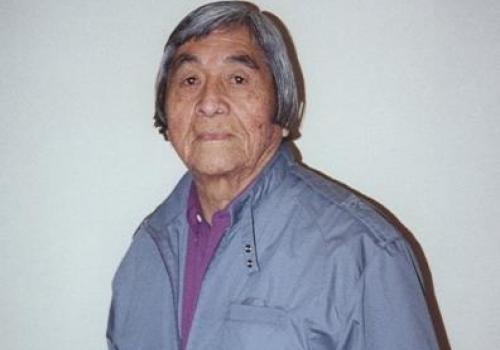 Dr. Emory Sekaquaptewa (1928 - 2007) "was a pioneering champion of preserving his native language. Born at Hotevilla on the Hopi Nation's Third Mesa in 1928, Mr. Sekaquaptewa was believed to be the first native American to attend West Point. He was the first Hopi tribal member to earn a law degree from the University of Arizona, where he became a noted research anthropologist in its Bureau of Applied Research in Anthropology and also taught courses including Hopi Language and Culture during a teaching career that spanned nearly 40 years.  ...[He] founded and served as chief judge of the Hopi Appellate Court, where he melded federal and state laws with Hopi traditional rules in judging tribal dispute. But perhaps the achievement that Sekaquaptewa most cherished was his work in compiling and publishing the Hopi Nation's first written dictionary. He completed the research with a grant from the National Endowment for the Humanities and published the "Hopi Dictionary/HopGiikwa LavGaytutuveni: A Hopi-English Dictionary of the Third Mesa Dialect"  in 1998, with about 30,000 entries and pronunciation guides." Read more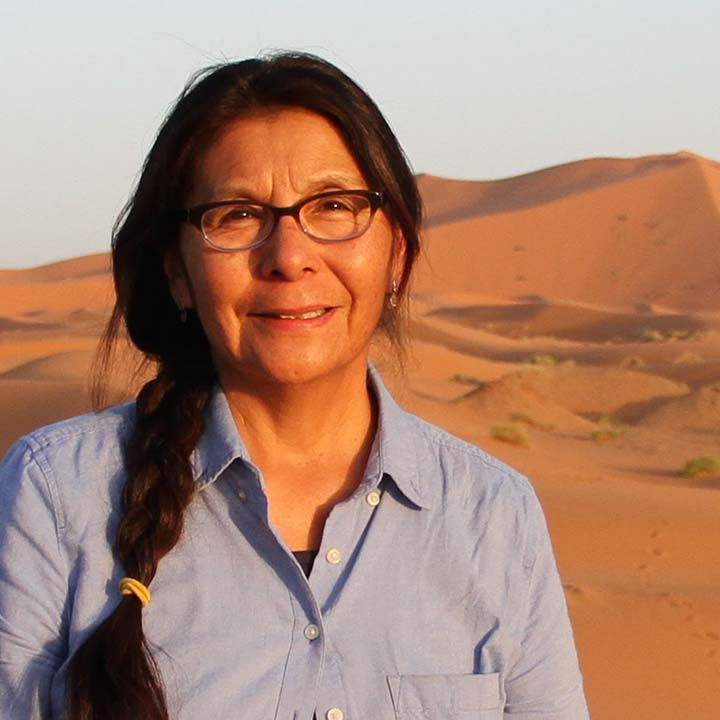 Dr. Beverly Singer was the first Native American woman from Santa Clara Pueblo hired by the UNM Department of Anthropology, holding a joint appointment with the UNM Native American Studies Department. She served as the first Director of Alfonso Ortiz Center for Intercultural Studies. Dr. Singer is a documentary filmmaker whose work examines issues facing indigenous societies. "A sample of her productions include the feature film Who We Are  for the National Museum of the American Indian, independent documentary Hozho of Native Women, Native Youth New Mexico for the Museum of Indian Arts and Culture, a National Endowment for the Humanities project Pueblo Women: Journeys and Pathways-Oral Histories of Contemporary Pueblo Women in Service, Leadership and the Arts with the Indian Pueblo Cultural Center, [and] From My Berber Heart featuring Malika Boukbout. Dr. Singer recently filmed and produced Journeys and Pathways: Contemporary Pueblo Women in Leadership, Service, and the Arts Oral History Project in collaboration with the Indian Pueblo Cultural Center and funded by the National Endowment for the Humanities.
Read more on Women Make Movies: Profile of Beverly R. Singer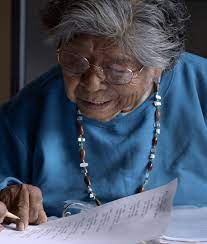 "For many years, Marie Wilcox (1933-2021) was the guardian of the Wukchumni language, one of several Indigenous languages that were once common in Central California but have either disappeared or nearly disappeared. She was the only person for a time who could speak it fluently. She started writing down words in Wukchumni as she remembered them in the late 1990s, scrawling on the backs of envelopes and slips of paper. Then she started typing them into an old boxy computer. Soon she was getting up early to devote her day to gathering words and working into the night. After 20 years of labor, of hunting and pecking on her keyboard, Wilcox, who died at 87 on Sept. 25, produced a dictionary, the first known complete compendium of Wukchumni." Read more  and Watch this short documentary about Marie Wilcox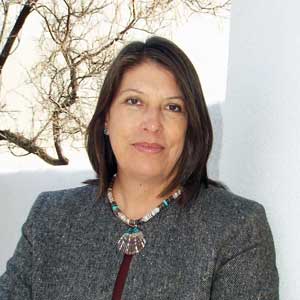 "Dr. Tiffany S. Lee (Diné /Lakota) is Dibé Łizhiní (Blacksheep) and born for Naałaní (Oglala Lakota).  She is from Crystal, New Mexico, located on the Navajo Nation, on her mother's side, and Pine Ridge, South Dakota on her father's side.  Dr. Lee is a Professor and Chair of Native American Studies at the University of New Mexico.  She earned her doctorate in Sociology of Education from Stanford University.  Her research examines Native youth perspectives with regard to language reclamation and identity.  She also investigates socio-culturally centered educational approaches.   In 2016, she was awarded a grant from the Spencer Foundation to examine the impact of Indigenous language immersion schools on Native American student achievement."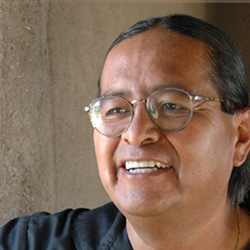 Clarence Cruz, Assistant Professor in the UNM Department of Art, "...is Tewa from Ohkay Owingeh, formerly known as San Juan Pueblo, and a graduate of the University of New Mexico, with a BFA and MFA in Art Studio, and a minor in Museum Studies through an Internship at the Maxwell Museum of Anthropology. Through his contribution in the art of traditional Pueblo pottery, he was honored with The Lifetime Achivement Allan Houser Legacy Award 2012, Honoring Pueblo Potters, SWAIA Santa Fe Indian Market. He has had the opportunity to travel to China to be part of a faculty exhibition at Jingdezhen Ceramic Institute and hired as Consultant Curator for the Inaugural Exhibition for the Alfonso Ortiz Center [for Intercultural Studies] [at the] Maxwell Museum of Anthropology, University of New Mexico. As a potter and instructor, he works with raw materials that he gathers from different sites on public lands. These materials consist of clays, slips, mineral pigments, volcanic ash, and Rocky mountain bee weed used for paint (black) or as a binder. His pottery firings are outside firings, which are: reduction firing, oxidation firing, and open firing (fire clouds)." "The Exploring Pueblo Pottery Project has received a prestigious Global Design Merit Award for interactive experiences from SEGD, as well as a 2019 German Design Award, and is the recipient of a Gold 2019 APEX Award in the Experiential Design & Planning category." Read more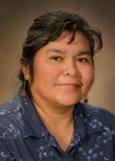 "Dr. Francine C. Gachupin is Associate Professor, Department of Family and Community Medicine, College of Medicine; Assistant Director, Cancer Disparities Institute, Arizona Cancer Center; and Assistant Director of the Native American Research and Training Center, all at the University of Arizona. Dr. Gachupin is a tribal member of the Pueblo of Jemez in New Mexico. She received her Doctor of Philosophy from the University of New Mexico and her Master of Public Health degree in Epidemiology from the University of Washington. She studies primarily chronic diseases and related behavioral risk factors. Much of her training has been at the National Institutes of Health and most of her work has occurred at four separate tribal based epidemiology centers – Portland Area, Aberdeen Area, Albuquerque Area and Navajo Area. She has worked with two tribal comprehensive cancer control programs in the northern plains and the pacific northwest."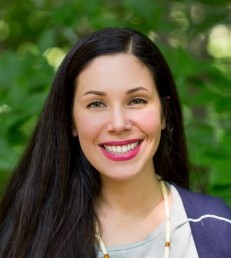 Dr. Blaire Topash-Caldwell (UNM PhD, 2020) recently joined the Newberry library's staff as Mellon Public Humanities Fellow. In this role, Topash-Caldwell will contribute to a multiyear project to expand access to the Newberry's extensive Indigenous Studies collection. Topash-Caldwell comes to the Newberry from the Pokagon Band of Potawatomi Nation's Department of Language and Culture, where she served as the tribe's first archivist....Topash-Caldwell, has worked to make relevant archival materials more accessible to Pokagon tribal members and collaborated with several institutions such as the National Archives in Chicago and the Eiteljorg Museum to make this possible. As part of this effort, she launched, managed, and developed content for a tribally-based content management system called Wiwkwébthëgen, expanding outreach and accessibility for the many tribal members who live beyond the Pokagon Band's service area. Read more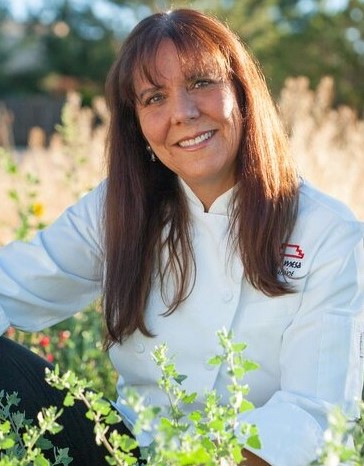 Dr. Lois Ellen Frank (UNM PhD, 2011) is a Santa Fe–based chef and culinary anthropologist whose book, Foods of the Southwest Indian Nations, won a James Beard Award. In a recent article for History,  History on a Plate: How Native American Diets Shifted After European Colonization, she discusses the significant changes in native diets over time that have had health and cultural impacts on native communities. Read more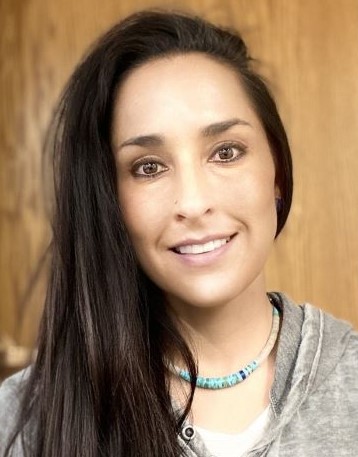 Jacque Kocer, UNM Archaeology doctoral student, was awarded the first Bertha Parker Cody Award for Native American Women by the Society for American Archaeology in 2021. The award will help fund completion of Jacque's dissertation examining how Gallina potters learned and shared knowledge and technology in the past. Funding for the award comes from the Autry Museum of the American West. She also was recently awarded a 2021-22 American Fellowship by The American Association of University Women (AAUW).  After graduating, Kocer plans to teach Archaeology at a tribal college and promote the presence of Native American women in academia and cultural resource centers. She has also incorporated The Gallina Research Institute for Indigenous Technology (GRIIT), a nonprofit for Native American youth and college students. Indigenous-managed archaeological research and training program, GRIIT, promotes Indigenous sovereignty over cultural and natural resources while preserving New Mexico's vast heritage. Read more
"As an interdisciplinary academic department, NAS is committed to Indigenous academic scholarship and research excellence. NAS offers a Master of Arts, a Bachelor of Arts, an Accelerated Online Bachelor of Arts, and a minor degree at the University of New Mexico.  Our goal is excellence in educating all students and the public about the Native experience of Indigenous peoples with significant attention given our complex history and intercultural heritage of New Mexico and the United States. Another goal is to create a department that collaborates with Native communities and engages students in Nation building."
Events
November 12, 2021 7 pm and November 14 at 7 a.m., and streaming on the PBS video app New Mexico in Focus: Joy Harjo

November 19-20,2021 Maxwell Museum Navajo Rug Auction

Preview: Friday, November 19, 5-7 p.m., at the Maxwell Museum;

Auction: Saturday, Nov. 20, at Prairie Star Restaurant, Santa Ana Pueblo; Viewing starts 11 a.m.; Bidding starts 1 p.m.
The Indian Pueblo Cultural Center in Albuquerque hosts a series of ongoing events throughout the year, including dances, demonstrations, workshops and exhibits
The National Museum of the American Indian features Why We Serve: Native Americans in the United States Armed Forces (online exhibit)
Native America Calling Culture Connection: Turkeys LISTEN NOW
2021 White House Tribal Nations Summit
Dr. Dustin Martin presents Indigenous Running: Modern Opportunity Defined by Ancestral Endurance
Dr. Joseph Aguilar presents Indigenizing the Academies
Dr. Jonathan Dombrosky presents Fishing for Foodways
 The Maxwell Museum of Anthropology Virtual Exhibit: People of the Southwest
Research
Chaco and Chocolate: SAR Impacts with Dr. Patricia Crown
News
Organizations