Catherine Rhodes
Assistant Professor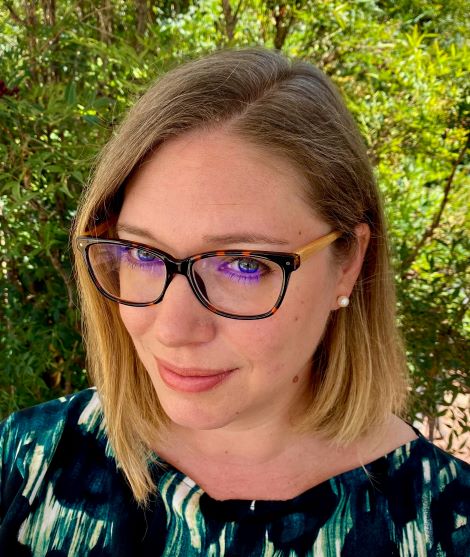 Ethnology
At UNM since 

2017

Email: 

 

Website/s:
Recent Courses:
Language and Culture (ANTH 310, cross-listed with CJ 319 and LING 359)
Topics in Ethnology: Anthropology of Education (ANTH 340/540)
Topics in Ethnology: Politics of Language in Latin America (ANTH 340/530)
Proseminar in Linguistic Anthropology (ANTH 510)
Proposal Writing (ANTH 530)
Scale (ANTH 530)
Indigeneity and Modernity (ANTH 530) 
Education:
BA, Latin American Studies, University of North Carolina at Chapel Hill (2001)
MA, Social Sciences (specialization linguistic anthropology), University of Chicago (2009)
PhD, Anthropology and Education, University of Pennsylvania (2016)
Dissertation: "Making Maya Linguistics, Making Maya Linguists: The Production of Maya Scientific Expertise and Models of Personhood in the Yucatan Today"
Research:
Linguistic anthropology, semiotics, language diversity and cognition, language ideologies, linguistic purism, social identification, narrative, discourse, scale, Indigeneity, modernity, anthropology of education. Research regions: Mexico; Yucatan peninsula; U.S. Mexican diaspora
Recent Publications:
Rhodes, C. (2021). Citation (Direct and Indirect). In J. Stanlaw, International Encyclopedia of Linguistic Anthropology. Wiley. (published online Dec. 2020; published in print Jan. 2021) DOI: 10.1002/9781118786093.iela0051
Rhodes, C. (2020). Dually authenticated and doubly modern: Institutionalizing jach maaya in the Yucatan today. Journal of Linguistic Anthropology. DOI: 10.1111/jola.12278
Rhodes, C. and Bloechl, C. (2020). Speaking Maya, Being Maya: Ideological and Institutional Mediations of Language in Contemporary Yucatan. In S. Brunn & R. Kehrein (Eds.), Handbook of the Changing World Language Map, pp. 861-883. Springer, Cham. https://doi.org/10.1007/978-3-030-02438-3_215 (print edition anticipated 2021)
Rhodes, C., Clonan-Roy, K., & Wortham, S. (2020). Making language 'academic': Language ideologies, enregisterment, and ontogenesis. Language and Education, special issue. G. Thompson and B. Jensen (Eds.). DOI: 10.1080/09500782.2020.1797771
Wortham, S., Nichols, B., Clonan-Roy, K., & Rhodes, C. (2020). Migration Narratives: Diverging Stories in Schools, Churches, and Civic Institutions. London: Bloomsburg Academic. DOI: 10.5040/9781350181342 Available via open access
Rhodes, C., Pomol Cahum, I. and Chan Dzul, M.O. (2018). Exploración lexicográfica de seis diccionarios del maya yucateco [Lexicographic exploration of six Yucatec Maya dictionaries]. Estudios de Lingüística Aplicada 36(68), 9-57. DOI: 10.22201/enallt.01852647p.2018.68.861
Wortham, S. Clonan-Roy, K., and Rhodes, C. (2016). Moral Panic about Sexual Promiscuity: Heterogeneous Scales in the Identification of One Middle-School Latina Girl. Linguistics and Education, 34, 11-21. Special Issue. (P. DeCosta & S. Canagarajah, Eds.)
Wortham, S. and Rhodes, C. (2015). Heterogeneity in the New Latino Diaspora. In E. Hamann, S. Wortham, & E. Murillo, Jr. (Eds.), Revisiting Education in the New Latino Diaspora, Ch. 9. Charlotte, NC: Information Age Publishing.
Wortham, S. and Rhodes, C. (2015). Narratives Across Speech Events. In A. De Fina & A. Georgakopoulou (Eds.), Handbook of Narrative Analysis, p. 160-177. Wiley-Blackwell.
Wortham, S. and Rhodes, C. (2013). Life as a Chord: Heterogeneous Resources in the Social Identification of One Migrant Girl. Applied Linguistics 34/5, 536-553, Special Issue. (A. De Fina & S. Perrino, Eds.)
Wortham, S. and Rhodes, C. (2012). The production of relevant scales: Social identification of migrants during rapid demographic change in one American town. Applied Linguistics Review, 3–1, 75–99.